770 Thomas Mk2 ally pars (both par 64 and 36)
–530 x 250w 28v ACL
–240 x 1k 120v Par
96 x 650w 120v DWE
47 x 7'7" PRT double hung
5 x Hex pods (each pod contained 12 x Short nose Par64 ACL, 24 x Par 36 ACL and 1 short nose par strobe dead ctr)
5 x Avolites 72 way racks
1 x TTR 90ch desk (designed and built by Adam with TTR/Lairhurst Richard Hartman)
1 x Custom TTR effects rack, used to program the pods into various patterns that could be controlled easily by the desk to avoid swallowing dozens of desk channels up.
16 x motors
9 x 3 way 10' spreader bars
5 x crew
2 x 48' (US)/ 3 x 40′(UK) trucks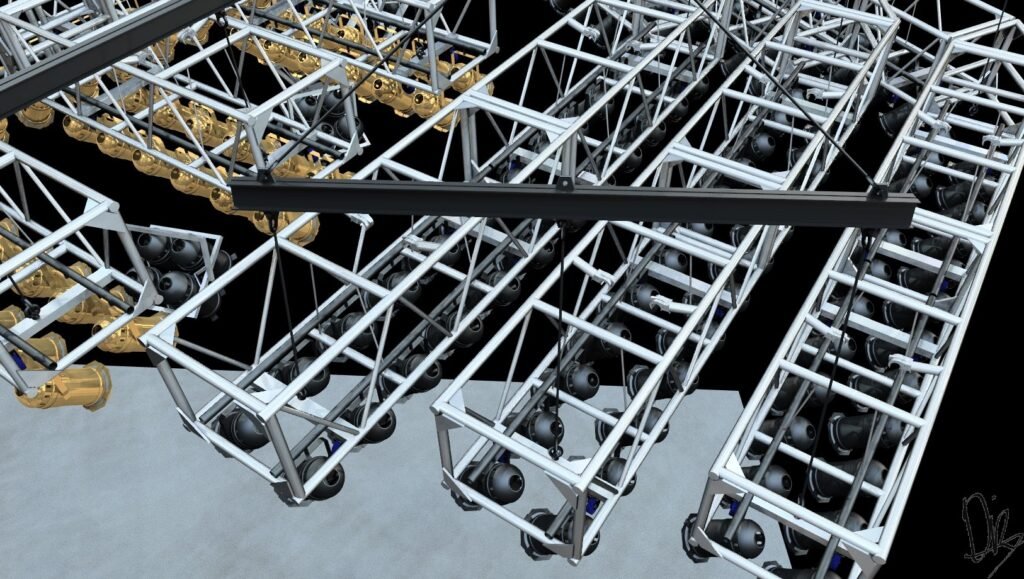 —————————-
3900a total (1300a per leg) at full
We asked for 2 x 3x400a and 1 x 3x200a, we sometimes only got 2 x 3x400a. Big par rigs in the 80's were designed to run max'd only at 40% of the rig on at any one time.
—————————-
7am rigging call
8am lighting call
1pm rig at trim (lunch)
3pm focus finished
4 x man up focus
All lamps were marked with Alpha Numerics to aim at 12"sq stenciled mats on the floor (A,B,C 1k's, 1,2,3 ACL's). Mats were removed after focus.
—————————-
9 x 10' 3 way spreader beams were used to pick up most of the rig as it was so light, to save motors, rigging, time, truck. Each beam picked up three truss pickup points from one motor, this cut the motors needed to pick up the rig by over 50%. The lighting system grossed out at 23,000 lb inc cables, motors and rigging. Hung on 16 points daily, this was not a heavy rig for its size.
To save cable runs to the floor and voltage drop. Most of the ACL's in the 6 lamp bars were run from numerous 4:1 patch boxes (1 x Scpx in, 4 x out) which were patched in series using individual molex connectors inside the box which was on the rig. This enabled variable patches of the ACL's, rather than 'straight 4' fingers. This cut the cable down to the floor for the ACL's by 75%, also voltage drop was decreased and response time was improved using patch boxes.
The Par64 ACL's in the hex pods were run at 28v from a dedicated Avo72 way rack run at 28v (modified trigger cards) via 3 x sgl phase 120-28v transformers. This enabled more elaborate shapes for the pods than 'one look only' in scenes.
The Thomas 7'7" PRT was designed and built for this tour inside 8 weeks in the summer of 1983. It was light (all aluminium) quick, dense in the truck and dimensioned to fit inside a standard height sea container (3 x wide tipped on end or stacked 3 high) as many large tours shipped rigs all over the planet back then.
The standard 7'6" Socapex lamp bar was kept, with the addition of 2" spacers between lamp and bar to drop the lamp below the bottom chord of the truss, this also prevented the constant pain back then of jamming the cable between yoke and bar when focusing.
The ally gel frames were chopped into octagons for the first time on this tour, to enable more radical focusing of adjacent pars.
All of the ACL Par 64's had a 3" ally disc riveted to the par mesh in the center of the can. This got rid of the Aircraft 'spill' from the filament itself that made the beam wider and dirtier.
We had units we called '4-cells', 4 x ACL pars mounted to a common frame and yoke so that all 4 lamps were focused onto a common point. These were used for mic specials when Mal and Cliff came up to sing backing vox, as we only had two truss spots on that tour which stayed on Brian and Angus. These 4 cells were a 2.0 version of the 'cubex oven' 4 cell boxes made originally by Richard Hartman that Ronan bought from him second hand and he used on various Judas Priest tours from about 1979 onwards. They too were loaded with 250w x 28v ACl bulbs and series'd up inside the box to make them a1k plug in load.
Diz .. Jan .. 2021
—————————-
Production Manager – Jake Berry
Production Designer – Ronan Willson
Rigger – George Fairbanks