How I got into lighting…
I started off in a small pub band in London in the 70's called 'Hatchet', as either a drummer or singer, this was the punk era and finding rock drummers or singers back then was hard, they all wanted to be the next Pistols or UK Subs. I was still working at Sainsburys supermarket as a departmental manager at the time. Eventually I got tired of wrangling the band into rehearsals or gigs, bought some beaten up old theatre lights, Strand Patt 23 and Patt 123's and 16 long square par cans that used to be in the Rainbow theater in Finsbury Park, North London. I painted them black and fixed them and advertised in Melody Maker classifieds for £2 a week "16k lighting rig for hire, have own truck, £50 a night within M25, extra for petrol outside London. All bands lit". I only had enough dimming back then for 16 lights and as some needed fixing with spares I had no money for yet I stayed at 16k.
My first advert got me a gig with Polydor records in a club in Mayfair in London in 1979 for two Irish bands doing a launch party to celebrate their new contract with Polydor. I remember doing the show and then getting paid after by the Polydor rep, and got to keep all of the money, and not split it between 5 of us in the band, a major life changing moment. I still vividly remember the song 'Jane' by Jefferson Starship and the Cars 'Just what I needed' being played loud on the PA as I was loading out and getting this really powerful feeling that this was the business I wanted to be in. A great mix of art, electronics, electrics, engineering and the smell of diesel when you loaded out. Sweaty, happy and paid.
The two bands from that gig were both doing a round of shows around London and asked me to light their shows with my gear, I did shows with them at the Electric Ballroom in Camden, the Marquee in Wardour St, The Greyhound in Fulham and the Red Cow in Hammersmith amongst others. Most pubs and clubs back then had no stage lighting at all, if a band wanted to be lit they might have 1 or 2 lights in white above the stage or they had to bring their own or rent them from people like me.
It was at this point I decided to leave Sainsburys, a super safe respected job back then, and jumped out into the wild blue yonder that was Rock and Roll.
My circuit of bands and venues grew until I was doing 3-4 gigs a week for various bands at the Marquee, Ronnie Scotts, Music Machine, Brecknock, Greyhound, Bridge House in Canning town and dozens of others, all of them the stomping ground for up and coming British bands. I continually bought more lights each month to build the rig up until I eventually bought 32 brand new Thomas Mk1 silver par cans. I'd been working part time with Ronan Willson at Meteorlites by then and had just put a 120k silver par can rig in at the Rainbow in Finsbury Park with a Gary Glitter (yeah I know) comeback gig and also this new band called Iron Maiden, who'd just released their Killers album.
We found out that the non painted silver cans inside would focus the light so much, it would melt a bullet hole in the gel in darker colours (L139, L180 for example) inside the hour !!. This was a huge problem, so.. we painted the inside of every can with an acid etch primer, and then a high temp matt black paint, all by hand, which eliminated that problem forever. Thomas did the same thing from then on in the factory. This was the start of a lot of R&D with the folks at Thomas Engineering.
Anyway, armed with 32 of these shiny monsters I was actually getting billing with the band at some gigs "See Park Avenue along with Dizzy's light show" (Park Avenue were primarily a rock cover band doing Depeche Mode to Springsteen covers, but gigging all over the UK). I added 4 Powerdrive 16ft crank up stands, bought an old set of Rank Strand mini 2 dimmers from Ronan after he bought some brand new Avolites 36 way racks. I was set.
My truck got 1000's of miles on it as I drove, set up, operated the whole shebang on my own. The biggest time suck on a day could be finding enough power for a 32k rig. So I carried a load of 500w bulbs with me, which I put in the lighter colours. This gave me more flexibility and actually could automatically balance the output very crudely so that a yellow 500w lamp next to a blue or dark green 1kw can would look more even to the eye. We didn't have level control with matrix pins at that time, if you wanted to pin 2 x blues and 2 x yellows into a scene with matrix pins the yellows would overpower the blues, going to 500w for lighter colours helped a lot and has the added advantage in not blowing fuses at the disconnect box on the wall. Sometimes I was paired up for power with the beer coolers or cash registers, they didn't like the visiting lampy knocking their power out during a show. We were there to help them sell more beer and food, if we stopped them doing that, we were a liability to them.
That taught me a lot of lessons about knowing your place in the hierarchy and one of the many reasons I liked this business and still do, it is amazingly logical, do your job, don't cause problems for others, help others if they need it and they will call you back if you fail in any one of those 3 main points, they might call someone else, knowing that there is ALWAYS someone else they can call is all you need to know.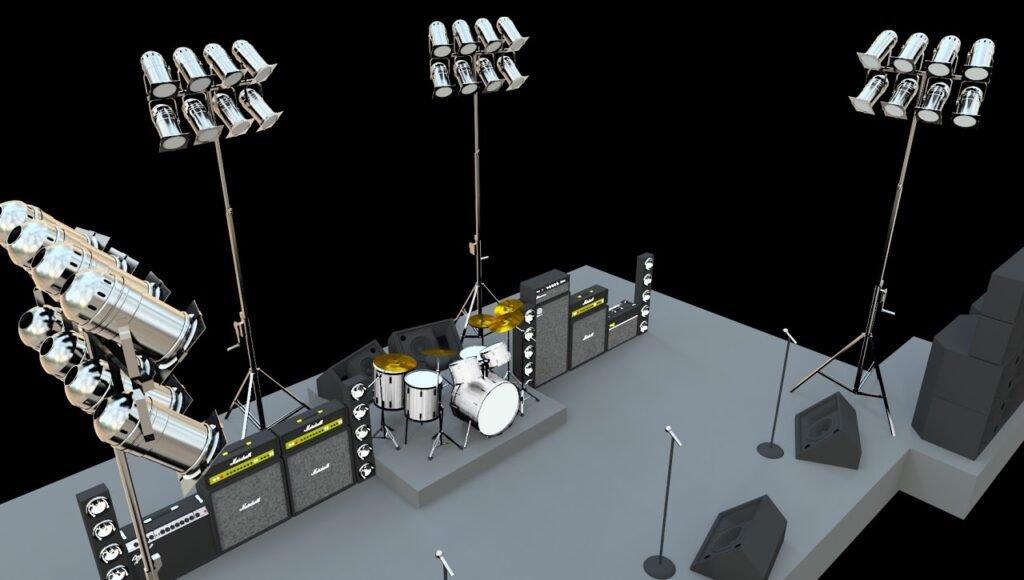 This is the last version of my own lighting system I owned as a private lighting guy in 1981. I used this rig at least 3-4 times a week in pubs, clubs, bars, civic halls, scout huts as private rig for hire. For £50 a night ($75) within 50 miles, more further out, they got, 32 chrome par cans, 4 x crank up towers, my 4 banks of blinders made from old scrapyard headlights, my homebuilt lighting desk with 12 matrix pin masters and my trusty Bedford truck.
For £900 I bought this blue Bedford luton box truck with money from my Sainsburys pension plan after I left Sainsburys. I used it to haul my lights to shows and in between gigs I would advertise the truck to do small removals of flats and small offices around London to keep me busy and maximise the use of the truck.
The very famous, and now demolished Bridge House Pub in Canning Town in East London. Many many bands got their start playing this circuit and as you can see by the fliers, live music was on 7 nights a week on their 25ft wide by 15ft deep stage.
This was a Maiden stomping ground in their early years as they were based just down the road, one of their locals. I did a ton of gigs here with Park Avenue, No Dice, The Extremists, and a ton of punk and pre metal bands. An awesome place run by a great owner Terry Murphy. I used to look forward to doing shows here, great vibe, my lights looked great in there and they looked after us well.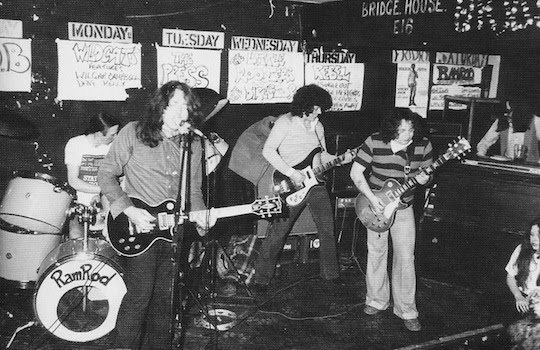 Rory Gallagher at the Bridge House in Canning Town, East London.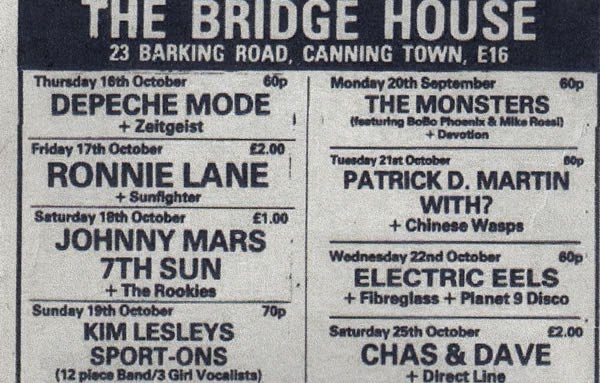 Not a bad week there, Depeche Mode, Ronnie Lane, Johnny Mars and Chas and Dave.
One of the shows for Park Avenue I did a of work with.
The Marquee hosted pretty much every band that made it big, Pink Floyd, The Who, The Stones, Jimi Hendrix, AC/DC, Uriah Heap, David Bowie, Thin Lizzy, Queen, Sex Pistols, The Police, Def Leppard, T*Rex and 1000's more. Keith Moon held court here on a regular basis in between bouts at the the pub "The Ship" up the road from the Marquee.
The inside of the Marquee at Wardour St in London, note the very old theatrical house lights with wires dangling almost within reach. It was this level of in house lighting that gave me my start. Bands were tired of the same 10 beaten up old 1k and 2k heads that might have gel in front of the lens or not, so they'd call people like me with their own lighting system and truck and we'd show up. Remember this was before cellphones, email, text or even fax machines. You got one phone call for "a show next Friday at 8pm , load in at noon, ask for Dave he'll pay you" If you forgot or didn't show up you were effectively out of business right then. Word got around fast, especially in the London circuit.
You'll notice a theme in the following venues I used to put my lights into, Camden Town in North London, just down the road from Hampstead, Swiss Cottage, just a mile away from Abbey Road (yes that one), close to enough the Mornington Crescent or Camden tube stations. There was the mighty Music Machine, Dingwalls, Electric Ballroom and the larger venue The Roundhouse. There was a lot of history in all of those venues, the Music Machine used to be a BBC music hall where they recorded many live radio shows from notably most of the Goon Show programs. The Roundhouse used to be a train turntable and train shed for steam trains. They could go in nose first, then turn around on the giant turntable and be parked nose facing outwards in a circular array of about 12 steam trains. It's still a large venue now having been refurb'd a few times since I was there in the 80's.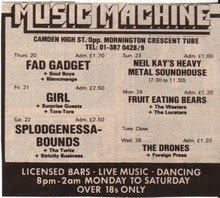 Splodge in here, we smoked that place out with these giant smoke cartridges at the end of the show, they had to open all the upstairs fire exits to get rid of the smoke.
Note Neil Kay? he was the major instigator for pushing new metal bands in the UK in the late 70's and early 80's.
Slade in 1980 at the Music Machine in Camden Town, London.
Screen grab of the Ramones at the Electric Ballroom in London in 1980, typical of the large club lighting systems that we travelled. (Not my lights in this pic, I didn't have CO2 gas Genie lifts, they were for the big dogs).
Typical bill in the early 80's for the Electric Ballroom. It was an old roller skating rink, and had a flat wooden floor, perfect for bands like the UK Subs, Patti Smith, Joy Division, Ramones, Ultravox and many many other punk and metal bands that played there.
The night before Saxon (above) Synthpop band Ultravox and new romantics Classix Nouveaux were on the bill.
Recent pic of the inside of the Electric Ballroom, doesn't look a whole lot different from when I was there in the 80's. It was one of the first venues I remember having a sound (db) limiter which would shut off sound power above 100db. They had this 'tower of power' as we called it a 2ft high plastic light tower between the sound desk out front and the stage. The lights went up from green to amber then red, if it sat on red for about 10 seconds it would shut the PA power. Both band and sound guy could see this in case a guitarist went nuts and cranked his Marshalls and tripped it on his own.
Yet another Camden venue, Dingwalls at Camden Lock.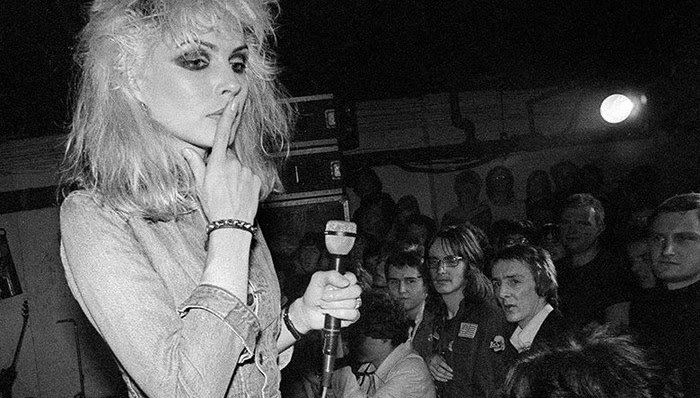 Debbie Harry w/Blondie at Dingwalls.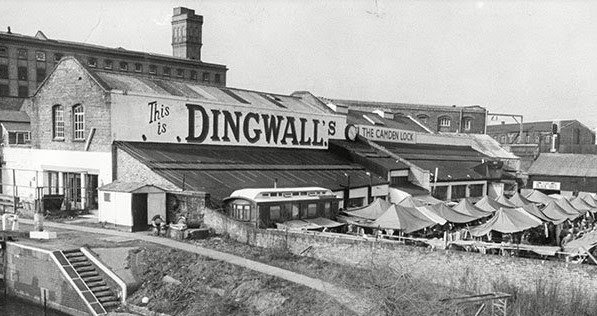 The Tram Shed in Woolwich in South East London.
Did a lot of shows with Splodgenessabounds (below) here in the punk days, all around London especially the Camden circuit as well as Birmingham, Manchester, Liverpool etc. These were the guys who nicknamed me "Dizzy". All the band had nicknames, Max Splodge, Desert Island Joe, Baby Greensleeves, Policeman Fred and more. Great band and good fun, their main singles were "2 pints of lager and a packet of crisps" and "Two little boys", pop punk thrash. Used tons of smoke, pyro and lights.
The Ruskin Arms in East London. I did quite a few shows in this pub with my rig, finding power was a problem, I had to use my trusty 500w bulbs here. Maiden used to play here in the early days, you'll see this pub in the and even did a Maiden Christmas special show there which they did for charity, Naming themselves 'Charlotte the Harlot' after one of their early songs. They used to mention the charity show once on Capital Radio and it the place was packed that night. Doug the sound guy and Dave Lights running my desk had to run the desks from behind the bar as that was the only spare place to put them. If you look at the cover artwork for the Killers album, you'll just make out the word "Ruskin …" right near the bottom of the picture.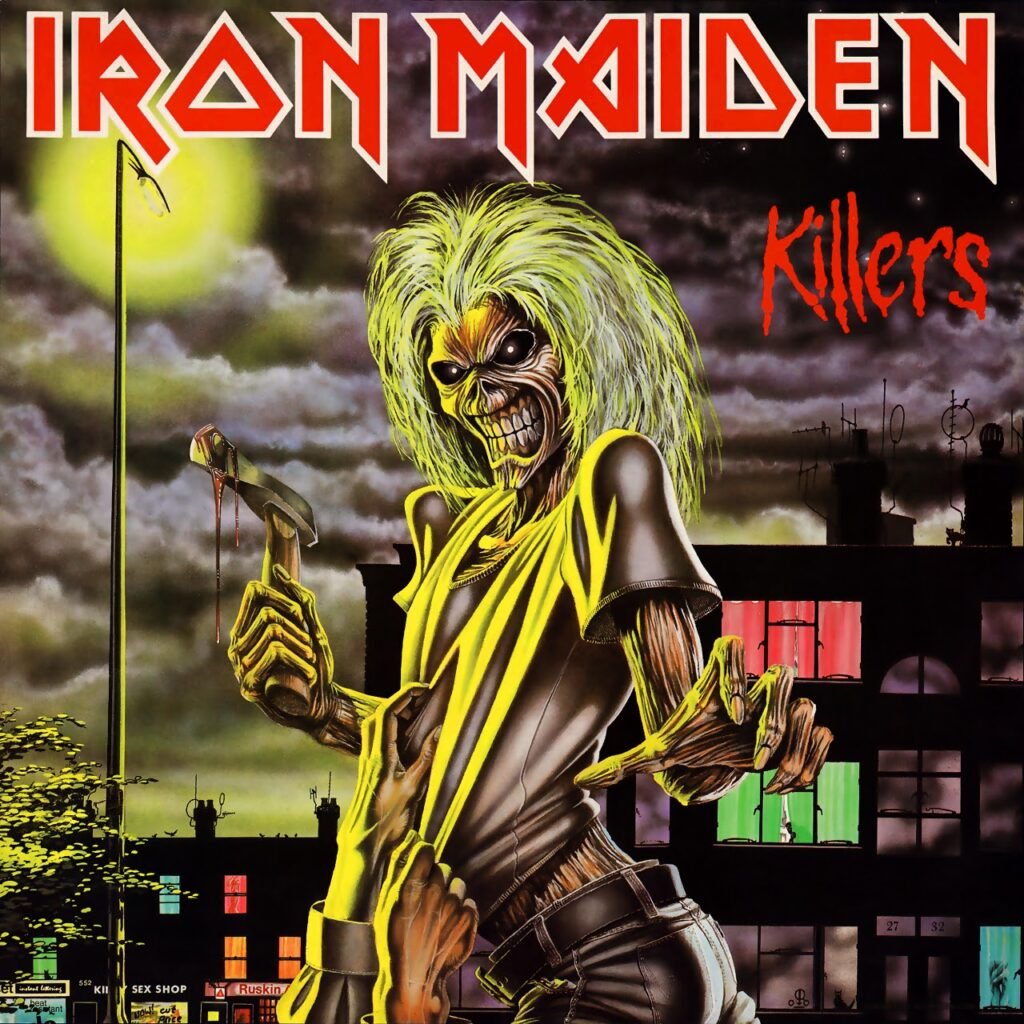 This is a bootleg from the 1981 gig Maiden did at the Ruskin one of the very first gigs with Bruce as singer. I remember seeing the looks on the faces of the fans seeing him for the first time impressed with his range and power.
The Meteorlites years
Wishbone Ash 1982 "Twin barrels burning" tour England, Europe, India.
Yours truly plugging up the racks in 1984 in Poland on the Powerslave tour with Maiden.
Much much more to come in time………
This was a good tour. everything in one Edwin Shirley 40ft step frame truck. 120 pars (2 x 16 lamp side genies and a back truss on two Superlifts with 8 lamp frames. 1 x 36 way Avolites purple carpet dimmer, 2 x follow spots and me, the only lighting crew and LD. Truck driver and bus driver ran the spots. Great fun, learnt a lot and good people. I miss Trevor Bolder (bass) Ex Spiders from Mars and Uriah Heap) we used to hang out a lot on days off around the world and had many in depth chats about what went on in the Bowie Ziggy years.
Football with Maiden in Poland.
L-R Robbie Price (Guit tech), Me, Steve Gadd (drum tech) and far right Rod Smallwood (Maidens Manager)
Find out more about Dizzy on his site