In 1968 the Rolling Stones constructed a mobile recording studio later made famous in "Smoke On The Water." At the time, recording studios in England were a 9-5 enterprise, and few could circumvent these restrictions. Recording artists, tired of not being able to record when the muse came knocking, also were provided with a second option, where to record. Still, the Rolling Stones Mobile was responsible for a unique series of events that would later give rise to one of the world's biggest bands.
In 1978, a young U2, then managed by Paul McGuinness, was busy working and rehearsing. Soon, the convergence of the stars would profoundly affect both U2 and Horslips member Barry Devlin. Barry was the former bassist and vocalist of Horslips, the originators and purveyors of what became known as Celtic Rock. Those moustachioed musical felons rocked the north and south of Ireland, the UK, Europe, Canada and the United States. Before it was all over, they had released nine studio albums, two live and two compilation albums, while playing over 1000 shows in ten years. Later compilations were released after the band stopped touring and recording post-1980 with two new live recordings from 2010.
Unknown outside of Ireland, Horslips brought the Rolling Stones mobile to LongfieldHouse in Cashel, County Tipperary, Ireland, to begin recording their debut album, Happy To Meet, Sorry To Part on November 3, 1972. Earlier that year, the band had released three singles on their label, Oats. The band raised some eyebrows as the traditionalists balked at the irreverent treatment they were giving Irish music, but the kids loved it from both sides of the rigid religious fence. It brought them together under the common bond of something exciting, unique and distinctly Irish. The mobile was available, having just been used to record the Rolling Stones Exile On Main Street and the Montreux Jazz Festival. With producer Alan O'Duffy at the helm, sessions began. Trying to deaden the echo in the library recording space, Paul McGuinness, a friend of Horslips manager Michael Deeny, brought in a stage curtain courtesy of an acting troupe he was involved with to help with the sound and stayed throughout most of the recording. This album will be considered the first Celtic rock album ever recorded.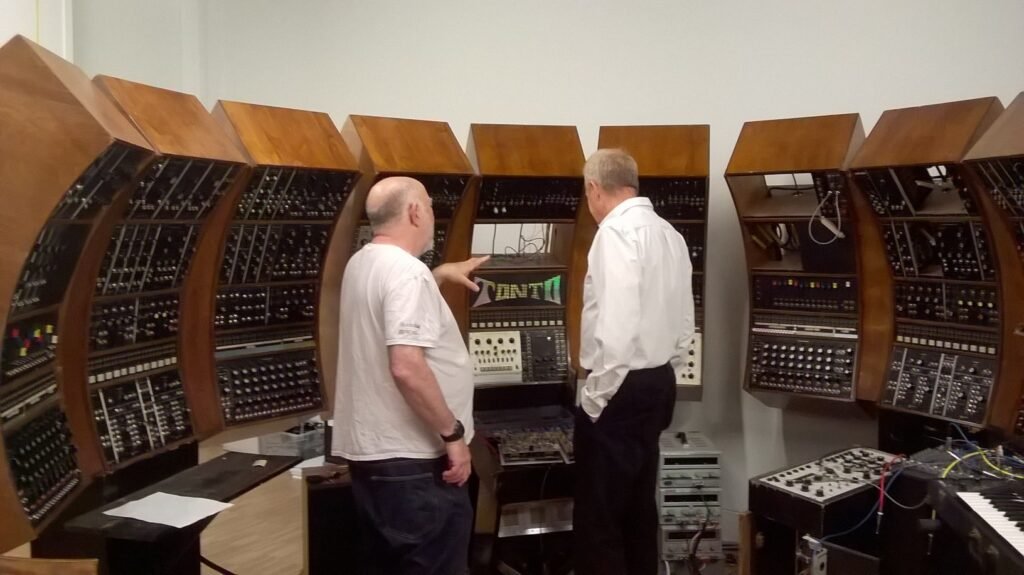 Having struck up a friendship during those recording sessions and knowing Barry was interested in producing, Paul McGuinness asked Barry if he would be interested in working with U2. He was, but he counselled Paul whether this was wise, given punk seemed to be fading away. Once he listened to the band, Devlin told him: "Remortgage the house, McGuinness." "I just thought it was written all over them that they were stars," says Barry. CBS Ireland had released a number of singles, but it was a headline show at the National Stadium that resulted in them being signed to Island Records. Barry would direct and produce some videos for U2, including "I Still Haven't Found What I'm Looking For," as well as other video work on later albums.
In 1980, Horslips played their last show together before taking an unofficial hiatus (or, as the band described, a very long tea break) that lasted twenty-four years. This hiatus ended when they played an acoustic set at an exhibition featuring Horslips memorabilia in Derry (also known as Londonderry) on March 22, 2004, which had a two-week run before moving on to other locales. Horslips had made Irish music history by having the best-selling debut album (a record that stood until the first Abba release in that country) in Ireland. The album also boasted one of the more expensive album covers ever at the time. The fact of the matter was, the band spent more on the cover than the recording itself. Manager Michael Deeny and the band formed their record label, Oats, and licensed their recordings while maintaining their copyright, and set the management style to become the model for others in the years to come.
Using some of the same management and business model of Horslips, McGuinness negotiated on behalf of U2 for complete control successfully with Island Records. The group owned their masters and had control over their songs. U2 and Horslips remained in Ireland, running their operations from Dublin rather than, as most did, move to England (although for U2, that would later change).
Another legend in the live rock music world was Steve Iredale. After repeatedly showing up at Horslips gigs around Ireland, he offered to help load in the bands' gear, and he eventually was hired as a roadie by the group. Horslips broke the mould again and insisted on putting the mixing desk halfway down the hall, in the centre, to get a quality mix for the audience. As the band's career ended, Barry Devlin (at this time, Barry was the video director for U2) suggested to Steve that he take on a job offered by U2. He did and went on to great acclaim as a tour production manager for U2 and artists such as Prince, Bon Jovi, George Michael, and produced Woodstock 1994, which are just a few of his many credits. Horslips Soundman Robbie McGrath was called upon by McGuinness to remix the first tapes to be released as singles by CBS Ireland by U2. McGrath would later sound engineer for U2, Queen, Thin Lizzy and three world tours by the Rolling Stones. All of these connections go back to Horslips and their decision to bring the Rolling Stones Mobile to Ireland.
What began when Horslips recorded their debut album affected so many other people's lives. Would U2 have been as successful if Barry had not produced that demo? When Barry recommended Paul McGuinness take the band on, he, Barry, unknowingly helped plot the band's course to becoming international favourites. What would the future of Horslips and U2 have been if the Stones never built the mobile? U2 certainly benefitted from the management experience of Horslips, proving an Irish group could make it and not leave home. Steve Ireland and Robbie McGrath may have chosen different careers, and the great U2 and Rolling Stones live shows would not have benefitted from their experience gained working with Horslips. The music industry is a funny business and full of what if's and happy accidents. Bono even remarked that if not for Horslips, U2 would not have existed.
Horslips continued to be extremely popular in Ireland and had launched a website where fans could exchange messages. In March of 1999, after fifteen years of legal maneuvering, the band won a landmark court decision that saw them gain back the ownership of their music catalogue that had been sold but not to the benefit of the band. Different companies had been selling their recordings (shoddy artwork and sound!) and not paying them. By this time, band members had moved onto other careers. In preparation for an appearance at the first exhibition of their memorabilia, they rehearsed a few numbers performed acoustically. Later demand for full-scale rock shows by promoters saw them return to sold-out arenas in Ireland, where they played, as headliners, some of their careers' biggest shows. The band later made appearances at festivals in England and Germany. In 2022 the band will celebrate the 50th anniversary of Happy To Meet, Sorry To Part.
U2 dominated the world music scene, but without that first Horslips album recorded on the Rolling Stones mobile, maybe Bono was right.